Camps
February and April School Vacation Camps & Sandlot Summer Camps
This is our 15th year of offering our popular school vacation and Sandlot Summer Camps for kids ages 6-12.
2018 February School Vacation Camp February 19 – 23, 2018
Our February Vacation Camp is a fun-filled indoor camp at the Cape Cod Baseball Club in Bourne.  We mix some instruction around fun activities like obstacle courses, relay races, popular baseball movies and more.  The kids get tons of swings and we run a team hitting tournament throughout the week.  They love it!
This is a full-day camp that runs from 8:30 am to 2:30 pm, Monday through Friday.

2018 April School Vacation Camp April 16 – 20, 2018
Our very popular April Vacation Camp runs outdoors at the Jonathan Bourne Library Field behind the library on Sandwich Road in Bourne.
Like our Sandlot Summer Camp, we play baseball all day!  Every kid gets 50-60 at-bats during this week-long camp-more than they'll get in their entire local league spring season!
We form teams, play a game in the morning, break for lunch, mix in a fun activity after lunch like Capture the Flag, Tennis Ball Challenge, Trivia Contest and Home Run Derby!, then play another game in the afternoon.
We are fully insured and sanctioned by the MA Dept. of Public Health statutes regarding Recreational Camps for Children.
This is a full-day camp from 8:30 am to 2:30 pm, Monday through Friday.

2018 Sandlot Summer Camps August 6 – 10 and 13 – 17, 2018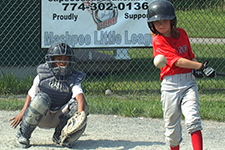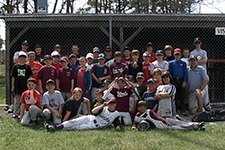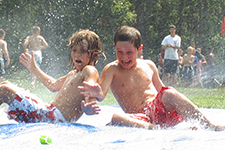 Two weeks in Bourne…
Our ever-popular Sandlot Summer Camp mantra, "No Big Names, No Big Speeches, Just Bring Your Lunch and Play Baseball All Day"  We believe kids get better by playing, not listening.
Just like the old days, a bunch of kids in a neighborhood getting together to play baseball all day.  Boys, girls, all ages play together!  Everyone gets 40 to 50 at-bats during the week long camp. That's more at-bats than most kids see all spring season in their local league!
Our Sandlot Summer Camp program runs Monday through Friday from 8:30 am until 2:30 pm for kids ages 6 through 12.