About
About the Cape Cod Baseball Club
For over 20 years, Cape Cod Baseball Club has been a comfortable place where baseball players of all ages and abilities come together to work hard at a game they love to play. We are a clean, brightly lit baseball and softball training center with a well thought-out practice regimen to help amateur ballplayers realize their potential.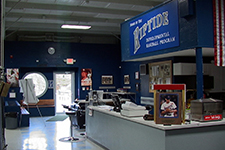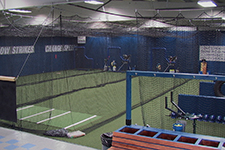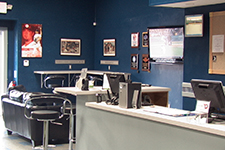 Our Team
Steve Almonte
Founder & President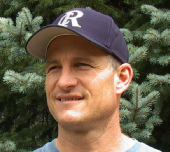 There's a few things I'd like you to know about me. First and foremost, I love baseball. Secondly, I'm a student of the game, and I love teaching what I believe to kids of all ages and abilities. Third, I love Cape Cod. I've been here since the late '60s and, after spending 15-years running my baseball club off-Cape – I finally realized that the Cape Cod economy could support a club like mine after all. I've been located in Bourne ever since.
My mission is to provide kids with high quality, affordable baseball and softball instruction. I've created a club atmosphere at a place where people feel they belong, a place where players are comfortable. It's a club where kids can work hard on developing their baseball skills, but also relax with likeminded friends in a positive, motivational environment. Through competition in sports and other games, children and young adults gain the skills needed to cope with and overcome our imperfect human condition. I've created a baseball hotbed. Over the years, many of our players have been scouted by colleges and the professional ranks, as they look for and find real ballplayers.
As Honus Wagner said, "There ain't much to being a ballplayer, that is, if you're a ballplayer".
On a personal note, I gotta have the ocean and a hand-picked quohog dressed with lemon, ketchup and tabasco. But I also have to have a fastball in on the hands, a fisted chopper, and a one-handed dish to first…one out.
Dave Rogers
Marketing Director, Camp Counselor, Instructor and Riptide Coach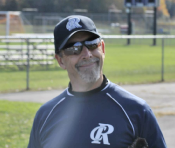 Dave wears a whole lotta hats here at the Cape Cod Baseball Club.
With 12+ years of Little League and Gateway Babe Ruth coaching experience, Dave truly has a passion for the game of baseball, and enjoys working with kids of all ages. He also continues to play baseball here on the cape in a 40+ Men's baseball league.
He is also the father of two sons who also play ball: Jeff for UCT Rams, and Chris with the Riptide. His other passion is in aviation. A private pilot with over 1,000 hours, he built and flies his very own aircraft!
Dave DuBerger
Catching Instructor and Clinician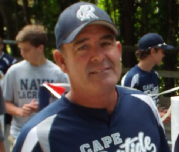 A long-time Bourne Youth Baseball Coach and Umpire with decades of experience at the Little League level. A talented and dedicated teacher.
James Alfonso
Hitting & Catching Instructor